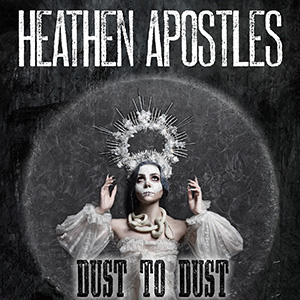 Chris Latta of Indy Metal Review had a great take (and an 'A' rating!) on the goth western flavor of the new Heathen Apostles album Dust To Dust (which is actually the band's fifth album)…
While Heathen Apostles' third album is their first proper full-length since 2015's Fire to the Fuse, it fits right in with the EPs that were released in between. The two Bloodgrass volumes set up a foreboding direction for the gothic country group's already dark sound that Dust to Dust is happy to develop even further. There's a sense of buildup as tempos are decidedly slower and one can detect tension in the air throughout.
This tension is especially potent during the album's first half. "Burn it to the Ground" makes for a scorching call to arms right off the bat, riding an ominous verse complete with a chorus whose vocals manage to alternate between whispers and Disturbed-esque pants without sounding too silly. "One True Belief" and "The Bride" make for additional highlights thanks to their exotic yet sinister rhythms. "Home Sweet Holmes" is easily the most stirring of the lot, an inevitability when you pair up an electrifying twang with a narrative about The Devil in the White City…
Of course, there are plenty of lower key moments to be found as well. "Paradise Lost" features a subtler structure compared to the album's more in your face moments, but its slow burn is tastefully executed. "Where the Waters Meet" follows it up with more abstract rhythms and "In the Pines" is a gorgeous update of a folk ballad classic. There's also something to be said for the upbeat simplicity on "Two for the Road" and "The Fall."
Through it all, the musicianship is exceptional. The alto vocals exhibit a variety of husky croons, esoteric whispers, and sneered spoken word that work to see through the stories they tell. The foundations are carried by a sturdy of guitar, banjo, and mandolin that avoid getting too cluttered and the occasional violin makes for gorgeous texturing. The drums also deserve props for playing the right amount, providing energy during the most intense sequences without getting too overbearing.
Despite a four-year gap between full-lengths, Heathen Apostles' third album sustains their momentum quite nicely. Dust to Dust doesn't stray too far from the gothic country sound set up by its predecessors, but a thematic symbiosis of dark barn burners and more subtle ventures results in what may be the band's most powerful effort to date. This isn't the most revolutionary album by any means, but fans of more macabre persuasions are encouraged to check it out.
Highlights:
"Burn it to the Ground"
"One True Belief"
"The Bride"
"Paradise Lost"
"Home Sweet Holmes"