Review of Dust To Dust on Viola Noir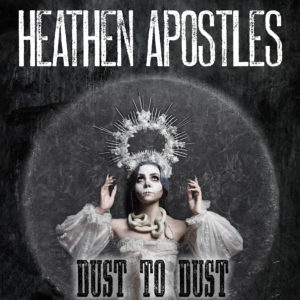 The new Heathen Apostles album Dust To Dust is a return to where they began. After experimenting with bluegrass, covers and collaborations, while revamping country music, the Heathen Apostles use the doctrine of the darkness, terror and horror with accompaniment of the banjo once again.
Burn It To The Ground begins as smooth dark country, leaving both ritual and dark roots in place. Bluesy symphonic tragedy and western-swiftness appear with the track Rise. Two For The Road mixes the narrative with emotionality, and generally changes the mood. On to One True Belief, where the listener is already warmed up and ready to listen to another scary tale with a bad end. The Bride develops the mystic-theme and brings us to a true tragedy on Paradise Lost. After – Where The Waters Meet as an unusual track for Heathen Apostles – lyrical with hypnotizing elements from old school, post punk music. Home Sweet Holmes – a gothic americana slasher with a dense narrative and an injection of sinister atmosphere. Spooky Southern Gothic, dirge-like reinvention of the classic In The Pines follows- as the soundtrack to sorrow and sadness, a kind of farewell song. Meditative, contemplative Easeful Death gives a short pause before the intense final part of the album. The final you could already hear when EP The Fall came out. Exactly in the same sequence of tracks, so we will not be repeated.
A successful appeal to their roots, without self-plagiarism, with the development of new themes, with a more fresh sound, where there are still characteristic handwriting and recognizable powerful vocals. Moreover, the Heathen Apostles never disappoint.
The release of the album Dust To Dust will be on June 7 from Ratchet Blade Records. Presale has already started, in addition, they have published dates for a European tour in support of this album. 8/10