Review of Herselt, Belgium Show By Rootsville Magazine
We have received a nice review from Rootsville Magazine of the Pallieter Café show in Herselt, Belgium, here is the English translation:
Heathen Apostles (US)
Roots – Americana Noir
Pallieter Café Herselt (08-07-2019)
reporter & photo credits: Freddie – Rootsville
Just back from the successful edition of Hookrock Festival and we are already back on track as they say. This time for four "Gothic Outlaws" from the "City of Angels" as a contradiction to it. These bringers of "Bloodgrass", as they call it, go by the name Heathen Apostles, and consist of Mather Louth, Chopper Franklin, Thomas Lorioux and Luis Mascaro.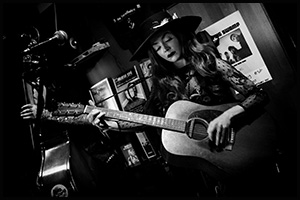 With this "Gothic Four" we end up in the past of American music history, but not exactly the traditional "American songbook". Punk rock veteran Chopper Franklin has already played in groups such as "The Cramps" and "Nick Curran & The Lowlifes" and these are immediately names that stand out. Getting together with femme fatale Mather Louth, their mutual admiration for murder ballads, Americana Noir and Memento Mori came into the picture and soon Heathen Apostles was created. The band was completed by the addition of Thomas Lorioux and Luis Mascaro.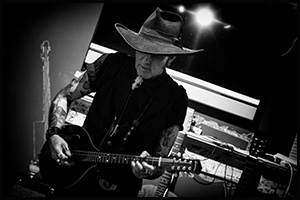 Under the guise of their new album Dust to Dust they are now touring across Europe. On this Monday evening they are not at the gates of the Titty Twister in the Mexican hinterland, but simply at the Pallieter Café in Herselt , and we are grateful to Kurt from the Rootstown agency for that.
There is a saying of "every bird sings as it is called", but we still have to make some exception with the Heathen Apostles. This foursome has the dress code "Gothic Black" and this together with the skulls and tattoos may seem somewhat impressive but are all in all friendliness itself, even though there is suddenly an impressive Chopper Franklin for you to get acquainted with. The regular bass player Thomas Lorioux was not able to play the entire tour, so the Belgian Jens DeWaele, who we also know from the Ghent "Fifty Foot Combo" and "The Grave Brothers", was hired as a replacement.
Since it was my first introduction to this "Bloodgrass" I didn't know what to expect but these Heathen Apostles immediately caught my eye with songs like "Fool's Gold" and "Death's Head". Mather Louth is a murder girl who can really sing and immediately catches your attention. In another outfit she could even be a "star" in any of the roots and / or Americana bands. The support of Chopper on the guitar, Jens on the double bass and the phenomenal Luis Mascaro on the fiddle make their "Bloodgrass" more than digestible, even more so you'll immediately love it.
Dark? Perhaps in the lyrics that are also about murder and destruction, but the music would almost encourage you to dance. The prominent presence of the fiddle also runs as a common thread throughout their performance. It becomes unreal when they perform a piece of Gershwin. "Summertime" was actually written by DuBose Heyward but due to commercial considerations only Gershwin was added. The Heathen Apostles version of this classic almost made me fall off my chair, and my compadre Vic immediately grabbed his smartphone to make a recording of it. It is simply a fine example of their abilities, as if Mather Louth has some DNA from diva Fitzgerald.
Of course we also get a lot of songs from their album Dust To Dust, such as an unbelievably strong version of the traditional "In The Pines", a song that we also know in the versions of Lead Belly and Nirvana. This song has an exclaiming violin and fits perfectly in the picture of the Heathen Apostles. Respect!
Voilà, and so we are immediately in the mood to head towards the 44th edition of Sjockfest, all this next weekend at the Poeylehei in Gierle where we have a second meeting with these Heathen Apostles on the high mass of the "Rock" n Roll Highlight of the Year ".
You can read the original post HERE.