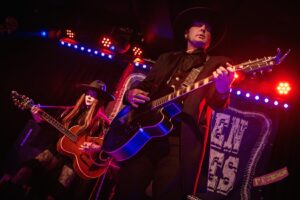 As if plucked from a surreal spaghetti western, Mather Louth and Chopper Franklin made quite the spectacle, striding down London's Pentonville Road in full regalia. That enigmatic sight not only awakened that mysterious voice in one's head, that in moments of aging self-doubt makes us slip back into our leather trousers and cut-off cowboy shirts, but also sparked a throwback to Lux Interior's pre-show red wine chase at Sainsbury's before a barnstormer at the Town and Country in Kentish Town, many, many moons ago.
The crowd erupted in jubilant cheers as the Heathen Apostles, giants of Gothic Americana, took the stage. Under the sonic leadership of the completely mesmerizing Mather Louth, with her stirring vocals and rhythmic guitar, they came alive. They dominated the stage as if they were vampire outlaws in a confrontation that could only end one way. Their performance, laced with elements of the surreal and the mysterious, unraveled like a vividly illustrated Nathaniel Hawthorne poem, with each musician playing a key part. Chopper Franklin's fiendishly intricate guitar work, Thomas Lorioux's firm upright bass, and Luis Mascaro's evocative violin added a rich depth to their sound.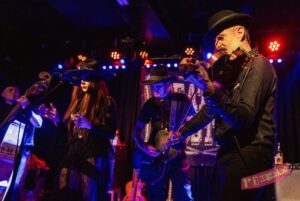 With the first haunting notes of Paint the Stars, we were swept away on a spiritual journey deep into the heart of Gothic Americana. The set was a gripping ride through spectral ballads and propulsive rock anthems that navigated through shadowy and mystifying terrains. Mather Louth's resonant vocals, laced with an eerie undercurrent, twined with Mascaro's assertive fiddle, piercing the creeping fog of dry ice, and stirring images of phantom prairies and forsaken souls. Her voice flowed seamlessly with Chopper Franklin's guitar, which spun complex webs of sound, vibrating with the soul of Gothic storytelling.
The crowd was held captive by Mather's powerful voice during songs like Lily of the West. Simultaneously, Chopper's feverish guitar work in Gravedigger's Song and Long Gone Lonesome Blues created a seamless blend of Americana with Gothic allure. The musicians' harmonious interplay, bolstered by Lorioux's rhythmic prowess and Mascaro's poignant violin, further captivated the audience during Two for the Road and Without a Trace.

The atmosphere was dense as Get Outta Dodge and The Reckoning reverberated through the venue, making its very foundations tremble. The spectral melodies, captivating visuals, and the dark allure crafted by Heathen Apostles surrounded the audience in a world between reality and the supernatural, evoking a sense of adventure and mystery.
As the twilight fell over Islington, the echoes of the soul-stirring fusion of Gothic Americana and Country and Western continued to reverberate through The Lexington. Even as the embers died down, we were left yearning for more. The Heathen Apostles had etched themselves into our dark hearts, ensuring their spectral melodies and mystical storytelling would stay with us long after the last note had faded into the night.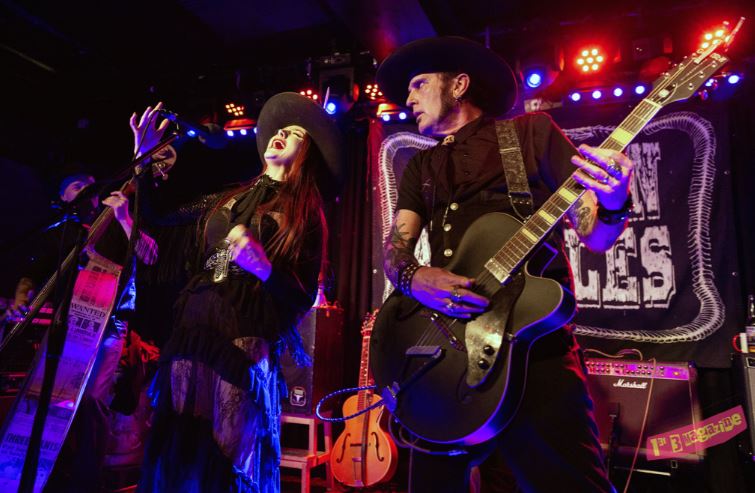 ---