Heathen Apostles In Nijmegen, NL: Goth Americana and Hellbilly
The bearable lightness of the dark Heathen Apostles: Goth Americana and hellbilly on a sunny Sunday evening.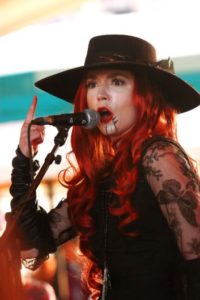 With a voice that can sink ships, it is a miracle that the nearby Waal is not littered with wrecks after the performance of Heathen Apostles. Fortunately that did not happen, but it could have, because in the music of the American goth Americana and hellbilly band death or the devil comes to the fore in almost every song.
Yes, you read that right. Goth Americana and hellbilly. Broadly summarized as Americana with a dose of folk and country topped with a pitch black edge. The murder ballads of Nick Cave meets Johnny Cash in a reincarnation of Bill Monroe. Frontwoman Mather Louth is dressed as a black widow and has a white face-painted grave face and the rest of the band (violin, guitar / mandolin and bass) also wear moody black clothes.
Darkness is dripping from the songs on the set list tonight: 'Death's Head', 'Death Came a Ridin', 'Dark Was the Night', 'Evil Spirits' and 'Dark Days'. Not the kind of music that you like to set up to enhance the atmosphere at a birthday party. Or maybe it is, because despite the macabre clothing and lyrics, the music does sound exuberant the majority of the time. Thanks to the vibrant violin, the scorching guitar and mandolin, the barking bass, the powerful vocals and up-tempo songs such as 'Two For The Road' and 'Shady Grove', the performance is rather cheerful. Sure, the themes remain dark and more than once a murder ballad is played, but the whole thing is played with such a lightness that it remains bearable.
THE MOMENT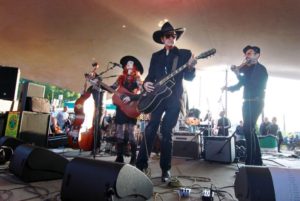 Anyone who thought Nirvana's cover of the 'In the Pines' (with them under the title 'Where Did You Sleep Last Night') was heartbreakingly beautiful, will undoubtedly revise his opinion after the performance of Heathen Apostles. That American traditional – wrongly attributed to Lead Belly – was seldom brought with such a lump of pure emotion and darkness as Sunday evening in Nijmegen.
By Patrick Struijker Boudier. 3voor12 Gelderland is again reporting extensively on the Four Days Marches this year. Follow the file for the latest tips, reviews, photos and other relevant articles.