An Interview With Heathen Apostles – Folk N' Rock / Americana Goth
Los Angeles based Americana Goth outfit Heathen Apostles recently put out their latest studio album, "Dust to Dust," and soon followed up with a European tour in support of the release. I spoke with Mather Louth and Chopper Franklin about the album, the tour, and where the band might be headed next.
Now that your European tour has just ended, can you tell us a little bit about what that experience was like?
Mather: In a word: a whirlwind! Which is actually quite surprising, being that it was essentially 5 weeks long and our longest European tour to date. But, it was incredibly inspiring, not only because of all of the sights we were able to take in, but also because of all of the connections we were able to make with fans (both new and existing alike.) Our tour took us everywhere- from the hustle and bustle of big cities to some beautifully remote locations- and that in itself provided a beautiful variety of experiences.
As much as playing 32 shows in 32 days was exhausting, it was equally exhilarating thanks to the adrenaline of performing on a daily basis. As a singer, I was pushed to my limits, but the genuine love for performing allowed me to keep hitting the reset button every night. You can never tell what each day will bring when on tour, so you just try your best to enjoy the highs and (as cliched as it sounds) maintain a sense of gratitude to have the opportunity to share your music with people that truly appreciate it.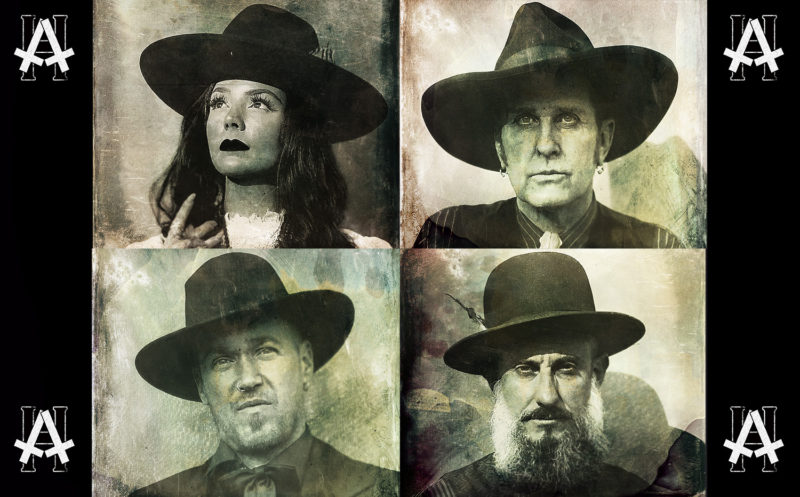 What was the writing and recording process like for Dust To Dust?
Chopper: While we were on last year's European tour we talked about what kind of album we wanted the next one to be. The previous album, Bloodgrass Vol. I & II was dark, but also really rootsy, and we thought this one should have a heavier mood.
As soon as we got home I began writing music that reflected that vibe, and then served the demos up to Mather for lyrics. Since we record in my studio we are able to build on the demos, and Thomas and Luis come in and do their parts. By busting it out this way we were able to have the album out for this year's tour.
READ THE REST OF THE INTERVIEW HERE.