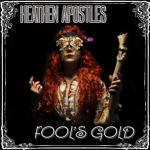 The Gothic magazine Viola Noir has reviewed the Fool's Gold single and video, it received 9 of 10 stars:
The Heathen Apostles, leaders of the genre Gothic Americana, recently presented a new single and video called Fool's Gold. This track is in the best traditions of Heathen Apostles — the sounds of guitars, violin, banjo, bass and the soaring, sad, but at the same time strong and furious vocals of Mather Louth. The Fool's Gold single has melancholy, irony and, of course, the whole flavor of Gothic Americana.
The Fool's Gold music video is excellent, although the Heathen Apostles have never disappointed me with the visual component of their work. The clip is stylized as silent cinema with it's title cards, body language and the facial expressions of the actors. A remarkable storyline of action — a most authentic esoteric salon with all the accompanying attributes. Periodically the shots of the main storyline are accented by by sweet pastoral pictures, somewhere in the fields and meadows with Tarot cards flying on the wind. In the Fool's Gold video a lot of attention is given to detail.
As for the plot — this time Heathen Apostles have told the story, full of the occult, gang fights, shots, blood, Tarot and fools. Also there is a love story with a curse, and accordingly, a sad outcome. 9 of 10
You can preview and order the Fool's Gold single HERE.
---