Heathen Apostles – Dark Sound of the Appalachians
Gothic Americana supergroup The Heathen Apostles make their Portsmouth live debut: 'We're lean and mean and ready to do it!' | Portsmouth News Interview If you take a pinch of Nick Cave and The Bad Seeds, a touch of Bauhaus, plus the blues of Howlin' Wolf, Loretta Lynn and Bessie Smith, as well as a hefty dose of the dark sound of the Appalachians, then you're getting close to the dark sound of the Heathen Apostles. But perhaps the band hit upon the best epithet for their gothic Americana with the atmospherically titled Bloodgrass EPs, currently numbering four volumes in total. This is roots music that revels in the dark side.​
The band was created in 2013 by vocalist Mather Louth, formerly of 'swamp jazz' band Radio Noir, and guitarist Chopper Franklin, a multi-instrumentalist known for his past with garage-rock legends The Cramps and cult punks the Mau Maus among others. They recruited upright bassist Thomas Lorioux, from the group The Kings of Nuthin', and violinist Luis Mascaro. Based in Los Angeles, they are making their long-awaited UK debut this month, including a date at The Wedgewood Rooms in Southsea.
As we discuss their roots, Chopper says: 'For me it goes way back. Almost every band I've been in has been roots-music based, even the punk band the Maus Maus I was in back in the early '80s, we were very heavily based in R&B and The Stones and The [New York] Dolls, and still had that aggressiveness, and there was a little bit of that goth – early-'80s goth-rock is just the best – and it kind of evolved from that.
'I've been in gothabilly bands and cowpunk, and it's always had that roots base, which I loved. It was right there in my first band, everyone listened to blues and R&B and reggae and being exposed to that as a teenager, I saw this as an evolution of that. We definitely lean more towards the gothic-Americana in that we are doing the country and the bluegrass, and there's some of that blues and R&B, a little gypsy jazz here and there – you throw it in a big stew and mix it all up and hopefully it's palatable.
The two met through mutual acquaintances. 'I'd see her see at some of the local clubs around here,' recalls Chopper. 'We ran into each other at a party – it's just two blocks from where we now live, ironically, and I mentioned that I wanted to do this project, something along these lines. It had always been a dream of mine to have a project with all of these influences. I mentioned it to her, it was just an idea at that time, and I had to finish up another project. I gave her two songs, she came over and sang on one of them, in the studio here and it was just magic. I knew she was going to be the singer. It was Dark Was The Night, which was our first real single we put out. 'Everything else fell into place. We did things a bit backwards – we recorded our album and shot our video before we even played a show, so we were able to put this whole thing together and present it to musicians and collaborators and show promoters as: "This is what it is".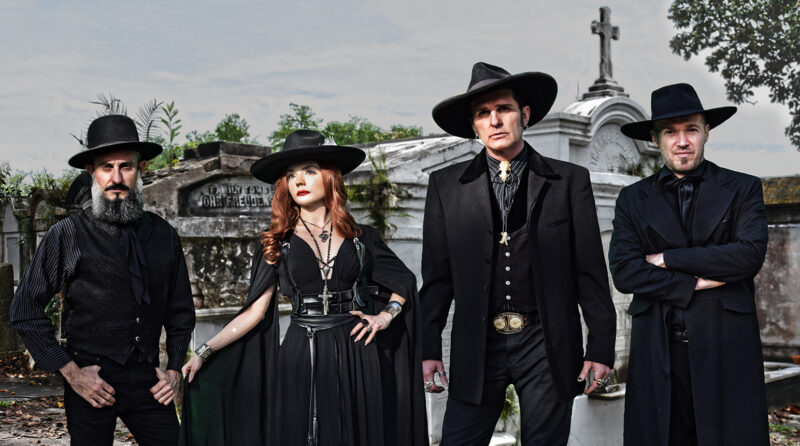 And as you can see from the pictures, the band has a strong visual aspect. 'I'm self-taught in that regard and I've had amazing mentors over the years. It's always been an interest of mine, so the band has been a good platform for me to experiment with that sort of thing. In certain videos we just come up with these crazy visual concepts, like I'm a resurrected moth woman and Chopper is resuscitating from a bone circle – just go with it…!
'The videos are really where we have fun and over the years we've been blessed to work with friends of ours who are very talented directors or digital artists. We did this one video that was inspired by German expressionism, and it's all black and white – it's awesome. It offers more of the realm that our music exists in and the way that we see it.
The band's most recent release is the single Gothic Western Haunts single for 'weird west' animated series The Goodbye Family, which Chopper also writes the score for. 'Lorin (Morgan-Richards, the show's creator) reached out to us during the pandemic,' explains Chopper. 'He's been making that comic for quite a while and it's his take on gothic western, and he's heavily influenced by the original Addams Family as well. He decided he was going to do an animated series and he reached out to us to do the music. It's worked really well.
While much of their material is original, the band is no stranger to a well-chosen cover song too. 'That's always fun,' says Chopper, 'especially once you've determined with your band what your sound is and what you want to put out there, to grab a song that's not quite the genre, but is a great song… We did Echo and The Bunnymen, but we've also done old Irish and English murder ballads and everything in between.'
On 2019's Dust to Dust they also tackled the haunting folk song In The Pines, perhaps more familiar to modern audiences as Where Did You Sleep Last Night? by Nirvana on their Unplugged album. And that's not to mention Gershwin's classic Summertime on Bloodgrass, Vol.1. 'Especially with a song like that, it's a challenge because it's been done so many times and it's been interpreted so many times – how do you make it fresh?' says Mather of the latter song. 'For me, filter it through your own lens. I've had people come up to me and say: "That was really ballsy that you guys covered that, because everyone's covered it, but yours is unique somehow". As long as you put yourself into it and put what you love into it, it's what's unique to you. When you're trying to flat-out recreate a song, that's where you have that magic opportunity.'
Edited for space, for more on the Heathen Apostles' dark sound of the Appalachians by Chris Broom, read the full interview HERE.