The Rustic Stomp Festival – Gothic Western Hoedown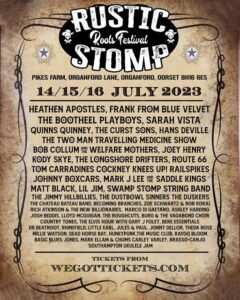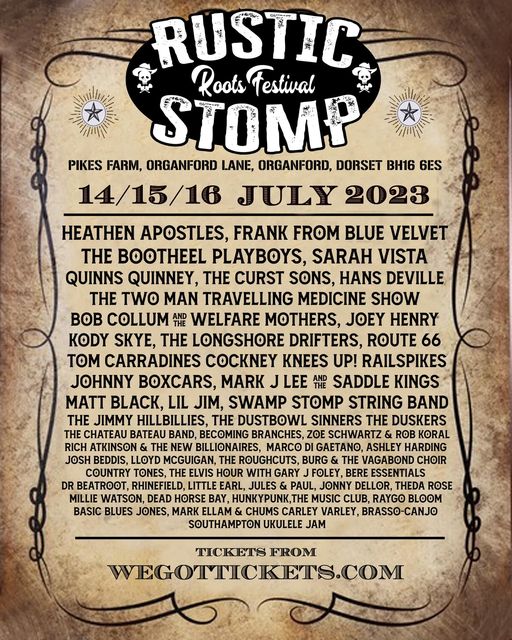 The Rustic Stomp, Dorset's finest Roots Festival is bringing together a plethora of local, national and international artists to give you the finest bluegrass, gothic western hoedown, blues, swamp stomp, country-based festival, with tractors, that money can buy. Three days of music and merriment are all wrapped within the Rustic aesthetic. This year's Rustic Stomp will also include historic vehicles and a Well Bean hub within the festival arena.This year's festival brings together three of the Crawdaddy festival brands under one roof, as it were. The Wonky Donk stage will feature the best of hoedown, country and hillbilly music. The Dark Holler stage takes a slightly, well, darker comedic look at life and the Organford stage is a more accessible, easy listening venue.
The event opens up on a ticketed event headlined by local foot-stompers The Jimmy Hillbillies throwing down their Dorset Hoedown for the masses. Friday night features the mighty Frank from Blue Velvet from Hastings and taking the Roots scene by storm, local skiffle kings Quinn's Quinney, as well as Burg and the Vagabond Choir and festival favourites The Curst Sons. Saturday has a real heavy weight feel to it with international superstars the Heathen Apostles featuring ex-Cramps member Chopper Franklin, headlining the event. Texas Swing outfit the Bootheel Playboys, Dead Horse Bay, a plethora of local artists on the Dungaville Stage and London's finest banjo player and builder Flatfoot Johnny. Sunday takes a stronger turn towards the genre of Country with the amazing Sarah Vista headlining.
The history of the Rustic Stomp goes back over 10 years, when Hawkeye Houlihan and some friends put on a little festival at the Donkey Sanctuary at Home Farm, Lytchet. The aim then was to help rescue donkeys by putting on some great rustic music that people would love. Well, the donkeys are rescued now and the festival is growing, its aim to put the Dorset 'roots' scene on the map. The festival is also looking to grow and has moved to a new, more accessible site at Pike's Farm, Organford. "Each year we are aiming to increase the accessibility of this type of music to a wider audience and promote the local artists that provide the backbone to the scene, as well as bring in some top-ranking national and international stars" says Hawkeye.
The Rustic Stomp is on from the evening of Thursday 13th July until Sunday 16th July and takes place at Pikes Farm, Organford, Dorset. Weekend tickets are £86.40, day tickets from £27.50.