The dates have been finalized for the Heathen Apostles UK tour. The first show is on 13 July, 2023, it will be their first one of the United Kingdom. There are 18 dates and will be built around their appearance at the Rustic Stomp Festival in Dorset, Poole on 15 July. The band will be shooting a southern gothic music video for their next single from their current release Bloodgrass Vol. 3 & 4. You can get tour promotion information from Hawkeye Houlihan at hawkeyesbanjo (at) hotmail.com.
Heathen Apostles UK tour:
Thurs 13th July – Cobblestones, Bridgewater, UK
Fri 14th July – The Treehouse, Frome, UK
Sat 15th July – Rustic Stomp, Dorset, UK
Sun 16th July – Wedgewood Rooms, Portsmouth, UK
Mon 17th July – video shoot
Tues 18th July – The Cellar Bar, Bournemouth, UK
Wed 19th July – Lexington, London, UK
Thurs 20th July – The Reindeer, Norwich, UK
Fri 21st July – Facebar, Reading, UK
Sat 22nd July – Endorset Festival, UK 2023 (afternoon set)
Sat 22nd July – Tap & Grape, Poole, UK (evening set)
Sun 23rd July – Christchurch Festival, Christchurch, UK
Mon 24th July – The Six Six Bar, Cambridge, UK
Tue 25th July – The Sunflower Lounge, Birmingham, UK
Wed 26th July – The Anchor Inn Wingham, Canterbury, UK
Thurs 27th July – Prince Albert, Brighton, UK
Fri 28th July – The Plough, Torrington, UK
Sat 29th July – The Cavern, Exeter, UK
Sun 30th July – The Pig, Hastings, UK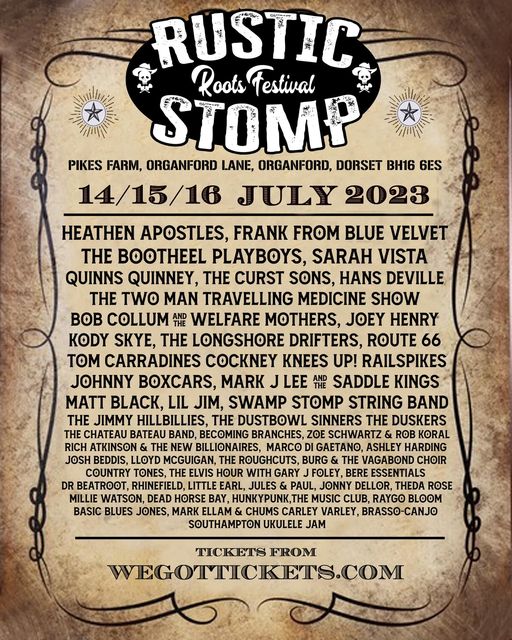 Born of the voices of past lives and baptized in the dust bowl dirt, the Gothic Americana music of the Heathen Apostles harkens back to a bygone chapter of American history. Using contrasting influences such as Bauhaus, Nick Cave & the Bad Seeds and The Pogues along with Howlin' Wolf, Loretta Lynn (the band covers her classic Fist City) and Bessie Smith, the Heathen Apostles have created a style of music that at once conjurs both angels and demons, and will enlighten a darkened soul.