No Depression Reviews Bloodgrass Vol. 1 & 2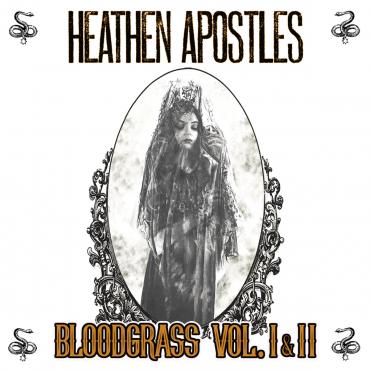 No Depression reviews Bloodgrass Vol. 1 & 2, by James G. Carlson:
LA Dark Roots Quartet Heathen Apostles Releases Bloodgrass Vol. I & II
From the fertile ground of the most recent wave of roots music there has emerged an abundance of noteworthy bands and singer-songwriters. One such band is the LA-based Heathen Apostles, whose latest release, a full-length which combines the band's Bloodgrass EPs, marks a significant point in the evolution of their sound. Call their sound what you will – gothic Americana, folk noir, doom country – but it cannot be denied that it successfully fuses the styles of bygone eras with those of today's fringe music. And the material on the band's Bloodgrass Vol. I & II release is a fine example of this.
Heathen Apostles began over six years ago with a fateful meeting between vocalist Mather Louth (Radio Noir) and guitarist Chopper Franklin (The Cramps, Nick Curran & the Lowlifes), who revealed their mutual appreciation for murder balladry, Americana, and momento mori to one another. With the strong yet haunting vocals of Louth and the skills of multi-instrumentalist Franklin, the two kindred spirits sought out other souls to bring into the fold, soon adding the upright bass thumping of Thomas Lorioux (The Kings of Nuthin') and the violin playing of Luis Mascaro. Since then, the band has released two full-lengths, Boot Hill Hymnal and Fire to the Fuse, as well as a small handful of EPs and singles, and have played their share of shows.
Bloodgrass Vol. II & II opens with the Apostles' dark, creeping rendition of Gershwin and Heyward's classic "Summertime." "Death Came a Ridin'," a Heathen Apostles original, is a macabre piece dedicated to the reaper, with Louth employing a storytelling style of lyrical conveyance. "Dark Days" somehow manages to successfully marry gloomy folk with gypsy jazz, and features some of Louth's best vocal work on the album. "Lady in Gold" is an energetic gothic country offering, while "Deadly Nightshade" is an ominous picker with a simple but nicely punctuating beat. "Paint the Stars," an easy standout on this album, kicks off with lively violin, guitar strumming, and steady beat, and then incorporates a powerful vocal performance by Louth. Other covers include versions of "You'll Never Leave Harlan Alive" (Darrell Scott), "Ramblin' Man" (Hank Williams), and "Shady Grove" (traditional). "D.O.A." has a roots rock feel to it, while the closer, "Fever Jane," another easy standout, is a moody picker with darkly beautiful vocals.
Like all the band's releases to date, the Heathen Apostles' Bloodgrass Vol. I & II is available from Ratchet Blade Records. And to follow it up, the band is also preparing to release yet another EP, titled The Fall, in the very near future.
By James G. Carlson.
To read the review on NoDepression.com, click HERE.