Mather Louth in Heavy Country Collaboration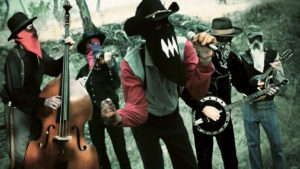 The Phantom of the Black Hills are back in the studio to record a new album, and once again they will be collaborating with the Heathen Apostles' lead singer Mather Louth. For those who don't know, Phantom of the Black Hills play very heavy country music, and have been together since 2009.
POTBH and Mather previously worked together on Wild Witch of the West (you can check out the wild music video for the song HERE), the lead single from their last album, 2017's Scalped. This time Mather will have a bigger role in the project, singing and writing on several songs on the new album. The album is roughly scheduled for a Spring 2020 release on Ratchet Blade Records, and it will once again be produced by Chopper Franklin.
WILD WITCH OF THE WEST
(lyrics by Phantom of the Black Hills and Mather Louth)
Drag me to hell, and howl it up all night
A haunted heart, got the feeling right
Trigger finger warm, her blood runnin' cold
A sunken sun, time to bring the show
Your death is her fascination
Sent to hell to stay; well, hell, she'll show the way
She's serving up some damnation
Badder than the rest, the Wild Witch of the West
Spells in the wind, crows fill up the sky
She's so gone, can't be rectified
Drums beatin' dark, corpses in the street
Her eyes wild, guns spittin' heat
She's bringin' your devastation
Yeah, she'll mark your grave, and send you on your way
Your grief is her incantation
Bringin' all the best, the Wild Witch of the West
Hex taking aim,
It's you I've come to claim
One last bone to pick
that bears your name
I'm crossing over the threshold
Sweeping off the ashes and the brimstone
You'd best not find yourself alone
Every story ends the same,
Another moth caught by the flame