Heathen Apostles in a Night of Gothic Outlaw Country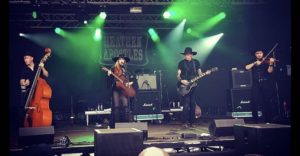 The Heathen Apostles will be playing Friday March 8th with Jason Charles Miller and Hannah Aldridge for a great night of gothic outlaw country at the world famous Whisky-a-Go-Go in West Hollywood, Ca. You can get advance tickets HERE.
Jason Charles Miller is an American singer-songwriter known for his solo albums as well as being the lead vocalist and guitarist of the industrial rock band Godhead. Hannah Aldridge is an Americana/ Folk artist originally from Muscle Shoals, Al. She is the daughter of the #1 hit songwriter and Alabama Music Hall of Fame inductee, Walt Aldridge.