Final Dates for Heathen Apostles' Bloodgrass Music Tour
The final tour dates have been announced for the Heathen Apostles September 2021 European Tour, they will be visiting Germany, France, Sweden Italy, Belgium and The Netherlands. Their Bloodgrass music tour was booked to make up for the postponed tour of September 2020, and they are playing many of the same venues on board one year later. They will be supporting their upcoming EP Bloodgrass Vol. 3, out August 27th on Ratchet Blade Records, and the precursor to the 2022 release of the Bloodgrass Vol. 3 & 4 album.
There are still dates open for their 2022 May/June European tour, if you have a venue that would like to book the Heathen Apostles, or know of one, Kurt DeBont at Rootstown Bookings HERE.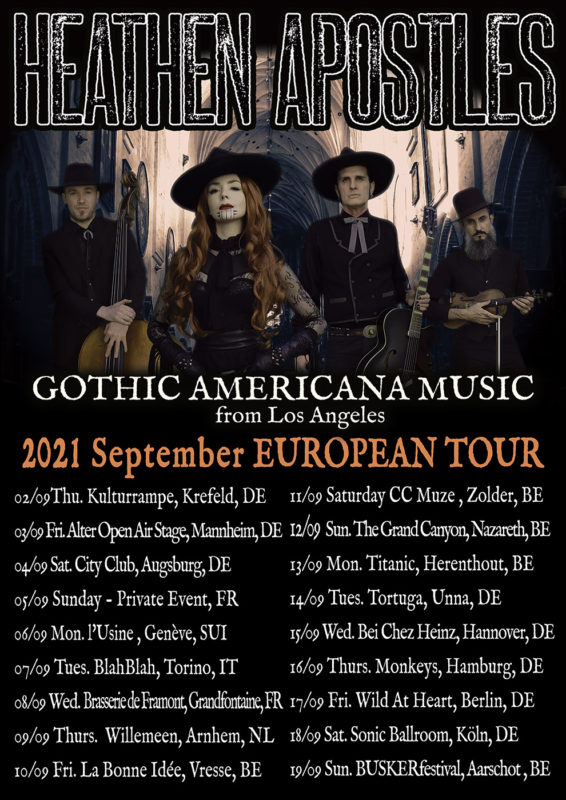 Heathen Apostles September Bloodgrass Music 2021 tour:
02/09/2021 Thursday – Kulturrampe Germany Krefeld
03/09/2021 Friday – Alter Open Air Stage Germany Mannheim
04/09/2021 Saturday – City Club Germany Augsburg
05/09/2021 Sunday – Private Event, FR
06/09/2021 Monday – l'Usine Switzerland Genève
7/09/2021 Tuesday – BlahBlah Italy Torino
08/09/2021 Wednesday – Brasserie de Framont, Grandfontaine, FR
09/09/2021 Thursday – Willemeen The Netherlands Arnhem
10/09/2021 Friday – La Bonne Idee, Vresse, BE
11/09/2021 Saturday – CC Muze Belgium Zolder
12/09/2021 Sunday – The Grand Canyon Belgium Nazareth
13/09/2021 Monday – Titanic, Herenthout, BE
14/09/2021 Tuesday – Tortuga Germany Unna
15/09/2021 Wednesday – Bei Chez Heinz Germany Hannover
16/09/2021 Thursday – Monkeys Germany Hamburg
17/09/2021 Friday – Wild At Heart Germany Berlin
18/09/2021 Saturday – Sonic Ballroom Germany Köln
19/09/2021 Sunday – BUSKERfestival Belgium Aarschot