"Death Bell Blues" Dark Blues Music Video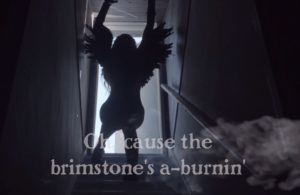 The Heathen Apostles have released a lyric video for Death Bell Blues, the first song on their new dark blues Born By Lightning EP, available now on Ratchet Blade Records. The band went in a dark blues direction for this release, casting the same dark spells they use on bluegrass and country onto the blues.
The video features footage shot long time collaborator Jorge Jaramillo, who in the past has worked with the Heathen Apostles by directing their Paint The Stars and Deadly Nightshade music videos. You can preview the Born By Lightning EP HERE.
"Whereas DUST TO DUST put the bluegrass of Bill Monroe into the woodshed with the gothic tendencies of Siouxsie & the Banshees, BORN BY LIGHTNING slinks and slithers to the beat of the blues, with plenty of shouts, hollers, and heavy slide guitar."