Bloodgrass Vol. II Review on Viola Noir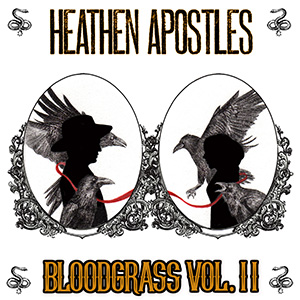 Bloodgrass Vol. II Review on Viola Noir:
Heathen Apostles continue the series of thematic EPs Bloodgrass. While previous release was focused on redefining bluegrass, the new one shapes the main features of reinvented genre.
The opening Deadly Nightshade seems to be the darkest variation of Southern Gothic ever known. It's full of bluesy yearning, dark folk depression and pagan mysticism. Paint the Stars sounds more familiar with what the band makes nowadays. The song is swiftly, brief, but at the same time it contains some elements of intricate dark roots/bloodgrass ornament.
In addition, it is accompanied by stylish and atmospheric video. It was directed by Jorge Jaramillo, whose portfolio consists of macabre and technically complex visual projects with recognizable style. It is not surprising, therefore, that his collaboration with Heathen Apostles turned out to be so efficient.
Ramblin' Man sounds a little surprising. It has bluesy mood, but not the one we have heard before. It is more contemplative, sensual, halftone. D.O.A is instead melodic and lyrical, it deeply roots in the memory. Shady Grove inherits gothic country and bloodgrass stylistics, while the final chapter Fever Jane is a smooth and calm ballad, adorned with Mather's voice, which has no borders and limits in singing talent.
In general, the new EP proves to be great comeback of Bloodgrass theme – without any crisis of ideas or clichés.
You can listen to Bloodgrass Vol. II HERE.