Record Release Show Reviewed in SugarBuzz Magazine
Heathen Apostles
Redwood Bar and Grill
Los Angeles
By Lucky
Fifteen hours at the mundane didn't stop me. Unusual cold weather for Los Angeles didn't stop me. Killing time in Echo Park didn't stop me. Six dollars to my name didn't stop me. Nothing stopped me on this particular Monday's eve from attending the Heathen Apostles record release party at the Redwood in downtown L.A.
The lot was free and so was the show, so that fit my budget just grand. Apparently the lure of free entry appealed to others as well as there was a damn good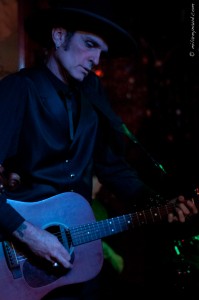 turnout on a night that otherwise could have been a death null. Seems the buzz surrounding Heathen Apostles is sweater than sugar.
Despite being close to the Heathen Apostles' set time, frankly hoping to dig the show and then go man go, I discovered there was still another band slated before the headliners. Good thing extra added adrenaline surged my veins when I hit the fabled décor. It enabled me to rage. The band was called "Red Rose" and I do recall I liked them more and more as their set progressed. I liked the bass player. She was cute. She walked by me later as the night progressed, and didn't even take a look. Alas, she doesn't know I exist.
The period wear sported by various members of Heathen Apostles sparked interest amongst the barflies, kinda of an 1800's reverend look, a bible in one hand and a gun in the other. All wore black and all meant business. Interest turned to intrigue as Mather Louth took the stage, in regalia that harkens back to times of hardship, blood and pain. Cape, hat, and a black mesh veil that disguised, made heads pivot. It was on as Chopper Franklin strummed the opening chords of "Red Brick Dust".
Read the rest and comment HERE