4 star Review For Without A Trace on Examiner.com
'Without A Trace' by Heathen Apostles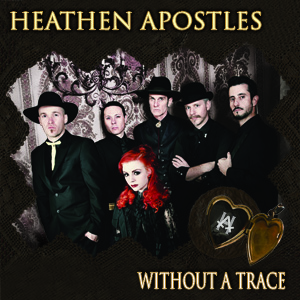 by James Carlson
Rating: 4/5 stars
September 1, 2014
If there is such a thing in the current fringe roots genre as a supergroup, it would certainly be the Los Angeles-based dark roots and alt-country band Heathen Apostles, whose participating artists include ex-members of Radio Noir (Mather Louth), The Cramps (Chopper Franklin), Kings of Nuthin' (Thomas Lorioux), and Christian Death (Stevyn Grey) in its ranks. That is one hell of a lineup. And their collective musical output is equally impressive.
Heathen Apostles made quite an entrance on to the scene with their debut full-length album, Boot Hill Hymnal. And now, this gothic outsider country and dark roots quintet have written and released a new EP of material on Ratchet Blade Records, titled Without A Trace. This three-song release is a worthy follow-up to Boot Hill Hymnal, even though the three songs go by all too quickly at a little over ten minutes. Quite simply, this is one of those quality over quantity things.
Without A Trace opens with the EP's title track, moving from wild Irish folk-like fiddle, a beat akin to marching drums, and punctuating strums, to somewhat of a country punk bit, all with Louth's strong vocals. "Before You Go," the second track, is a slower gothic country offering, with clear strumming, string picking, a beat that carries the song structure forward, subtle yet effective bass, and Louth's voice at its most hauntingly beautiful on the EP. The Closer, "Lily of the West," is a countrified murder ballad and arguably the best song on the release.
Read the review on Examiner.com HERE.
Preview Without A Trace HERE.