We have received a nice review from Rootsville Magazine of the Pallieter Café show in Herselt, Belgium, here is the English translation:
Heathen Apostles (US)
Roots – Americana Noir
Pallieter Café Herselt (08-07-2019)
reporter & photo credits: Freddie – Rootsville
Just back from the successful edition of Hookrock Festival and we are already back on track as they say. This time for four "Gothic Outlaws" from the "City of Angels" as a contradiction to it. These bringers of "Bloodgrass", as they call it, go by the name Heathen Apostles, and consist of Mather Louth, Chopper Franklin, Thomas Lorioux and Luis Mascaro.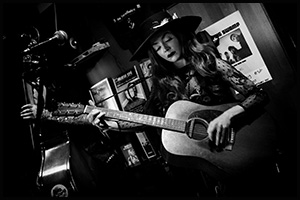 With this "Gothic Four" we end up in the past of American music history, but not exactly the traditional "American songbook". Punk rock veteran Chopper Franklin has already played in groups such as "The Cramps" and "Nick Curran & The Lowlifes" and these are immediately names that stand out. Getting together with femme fatale Mather Louth, their mutual admiration for murder ballads, Americana Noir and Memento Mori came into the picture and soon Heathen Apostles was created. The band was completed by the addition of Thomas Lorioux and Luis Mascaro.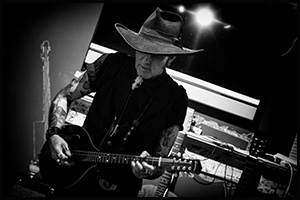 Under the guise of their new album Dust to Dust they are now touring across Europe. On this Monday evening they are not at the gates of the Titty Twister in the Mexican hinterland, but simply at the Pallieter Café in Herselt , and we are grateful to Kurt from the Rootstown agency for that.
There is a saying of "every bird sings as it is called", but we still have to make some exception with the Heathen Apostles. This foursome has the dress code "Gothic Black" and this together with the skulls and tattoos may seem somewhat impressive but are all in all friendliness itself, even though there is suddenly an impressive Chopper Franklin for you to get acquainted with. The regular bass player Thomas Lorioux was not able to play the entire tour, so the Belgian Jens DeWaele, who we also know from the Ghent "Fifty Foot Combo" and "The Grave Brothers", was hired as a replacement.
Since it was my first introduction to this "Bloodgrass" I didn't know what to expect but these Heathen Apostles immediately caught my eye with songs like "Fool's Gold" and "Death's Head". Mather Louth is a murder girl who can really sing and immediately catches your attention. In another outfit she could even be a "star" in any of the roots and / or Americana bands. The support of Chopper on the guitar, Jens on the double bass and the phenomenal Luis Mascaro on the fiddle make their "Bloodgrass" more than digestible, even more so you'll immediately love it.
Dark? Perhaps in the lyrics that are also about murder and destruction, but the music would almost encourage you to dance. The prominent presence of the fiddle also runs as a common thread throughout their performance. It becomes unreal when they perform a piece of Gershwin. "Summertime" was actually written by DuBose Heyward but due to commercial considerations only Gershwin was added. The Heathen Apostles version of this classic almost made me fall off my chair, and my compadre Vic immediately grabbed his smartphone to make a recording of it. It is simply a fine example of their abilities, as if Mather Louth has some DNA from diva Fitzgerald.
Of course we also get a lot of songs from their album Dust To Dust, such as an unbelievably strong version of the traditional "In The Pines", a song that we also know in the versions of Lead Belly and Nirvana. This song has an exclaiming violin and fits perfectly in the picture of the Heathen Apostles. Respect!
Voilà, and so we are immediately in the mood to head towards the 44th edition of Sjockfest, all this next weekend at the Poeylehei in Gierle where we have a second meeting with these Heathen Apostles on the high mass of the "Rock" n Roll Highlight of the Year ".
You can read the original post HERE.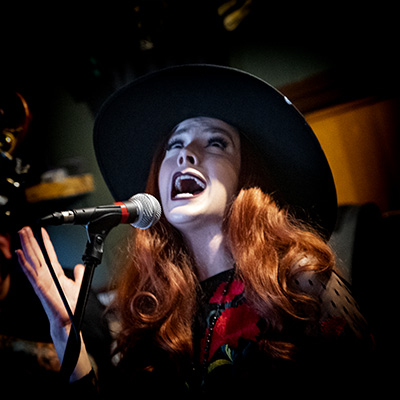 ---
Between Angels and Demons
(As the Heathen Apostles 2019 European tour finishes the first 1/3 of the journey, photos and reviews will begin to be posted here. This report and photos of their June 19th show at Bar Le Tigre in Selestat, France were done by Sebastien Riotto.)
It was not the deep south of the United States but a warm Alsatian Wednesday night in Selestat, France. At the Bar Le Tigre, the temple of rock 'n roll, the stars and stripes were about to be released. The atmosphere was laid, it smelled like the plains of the west. Then came the time of black suits and Stetsons.
From Los Angeles, the Heathen Apostles swing between angels and demons. Their musical style is their own, assembling dark country and old Irish songs, a balance between Nick Cave and Howlin' Wolf. The beautiful redhead Mather Louth leaves one bewitched by her voice, and the guitar of Chopper Franklin takes the soul into this musical universe that looks like no other. The initiates who responded to the call of the music promoters Cheeky Cherry have not been left with this trip into a dark pan of the American spirit.
---
The new Heathen Apostles album Dust To Dust received a great review on the Gothic Folk site Folk N' Rock. It was written by Jeff Goble, here it is in its entirety, you can also check it out on the site HERE.
"With their iconic blend of Gothic aesthetics and Americana influences, Heathen Apostles set out to create a sound that's easy to describe as one-of-a-kind. The group's music is as charismatic as the band's lush dark aesthetics, bringing a cinematic edge to their sound.
Although Goth and Americana might seem like two odd bedfellows, the mix actually works really well. If you stop and think about it, most Americana songs are rooted in darker stories and mysterious characters. This is definitely a strong connection with the dark and eerie aesthetics of Goth music and art. Heathen Apostles managed to find the right balance when blending these two cultures, making for something really special.
Recently, they set out to release their new studio album, "Dust To Dust." This release is a musical journey through various moods, and it dives deeper into other genres, ranging from alternative rock to outlaw country. The record kicks off with "Burn It To The Ground." As the title might suggest, this is a beginning with a bang, showcasing a relentless storm that brings a darker edge to a traditional Americana rhythm.
One of the most exciting aspects of this release is undoubtedly the group's storytelling. On songs such as "Home Sweet Holmes," the group dives deeper into the story of serial murderer H.H. Holmes, making for a vivid narrative twist. They also explore different tonal ideals and influences on tracks such as "Two For The Road."
There is also room for a classic, with a cover of the timeless folk song, "In The Pines." This track was popularized by artists as diverse as Leadbelly and Nirvana, to mention but a few.
Throughout the span of 13 tracks, this album feels like a sound roller-coaster, as the group takes you through such a wide array of tones and influences. In addition to the kaleidoscopic creative twist of the band's musicianship, the production of the album is also quite inspiring. It feels warm and organic yet crisp and compelling. There is a pleasant liveliness to this release, which highlights the band's chemistry, and their ability to create music that feels very cohesive, rather than just patching things up with the help of recording studio trickery and post-production wizardry.
This album is a labor of love and the sound of a band with a powerful vision. They know where they want to take their art, and as a result, they were able to deliver an exciting and meaningful album to the audience.
Ultimately, this release makes for a rewarding listening experience – a set list filled with highlights and diverse sonic characteristics. If you are a fan of artists such as Nick Cave, Howlin' Wolf, The Pogues, or Devil Makes Three, you are going to enjoy this particular project!